Hiam na'im nawaja'a, susya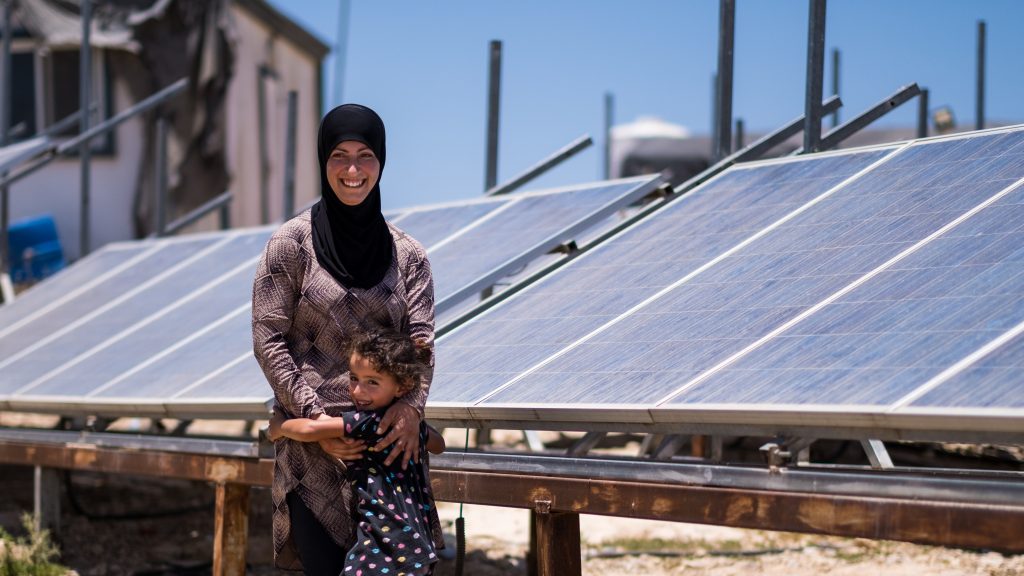 "Growing up in a-Tuwani, we lived in a regular house. In 2006, when I married Nasser and moved to Susya we lived in a tent, without running water or electricity. During my first pregnancy I had complications and had to stay in Yatta for a year until after I gave birth. In 2007 I returned to Susya and we built a kitchen and bedroom. We have slowly developed our home despite the restrictions by the
Israeli military."
Community name:
Susya
16 households
104 people
Installation year:
2008 and 2011, upgrade 2014/2016
Comet-ME systems:
solar micro-grid (10 kWp)
with diesel backup, 13 H2O systems
What does a regular day look like for you?
I wake up early, around 5 am, feed the sheep, bake bread, prepare breakfast for the children and get them ready for school, clean and straighten up the house, and cook lunch. Then the children come
back from school and we eat together. In the afternoon we can relax, the families meet outside and spend time together.
How has the electricity changed your life?
Before the electricity system, women had to do all the daily chores by hand—laundry and churning milk to make cheese, which took many hours a day. Today I simply turn on the electric butter churn and do other things. We would have to cook every day because there was no way to refrigerate and store food. In the past we had to draw water from the cistern by hand. Today, we use the electric
pump and water comes straight to the taps in their homes, and it's a lot healthier because of the filter.
Our main association with Susya is the danger of expulsion that hangs over your heads…
Last year I went on a speaking tour in the United States, where I met with students and teachers and leaders. I spoke about our life, our history, and the challenges we face, in particular the danger of demolition of our village. This is very important, and I hope I will have another opportunity to travel and make our voice heard.